Kevin owns this: http://www.ballindalloch-press.com/packet2.html

He asked me almost ten years ago if I could knit him a "Voyageur" hat, and a few years back actually loaned me the book with the pattern. It was my first Rev War knitted reproduction. It's ridiculously simple, any knitter who can knit in the round can make one of these... the only tricky bit is the gauge, which is so tight that I started wearing a thimble while I knitted to allow me to maintain it. The original was covered in tar, but it's unclear whether that was done intentionally (waterproof seal?), accidentally (sailors use that stuff, ya know), or in the wreck itself (barrel spill?).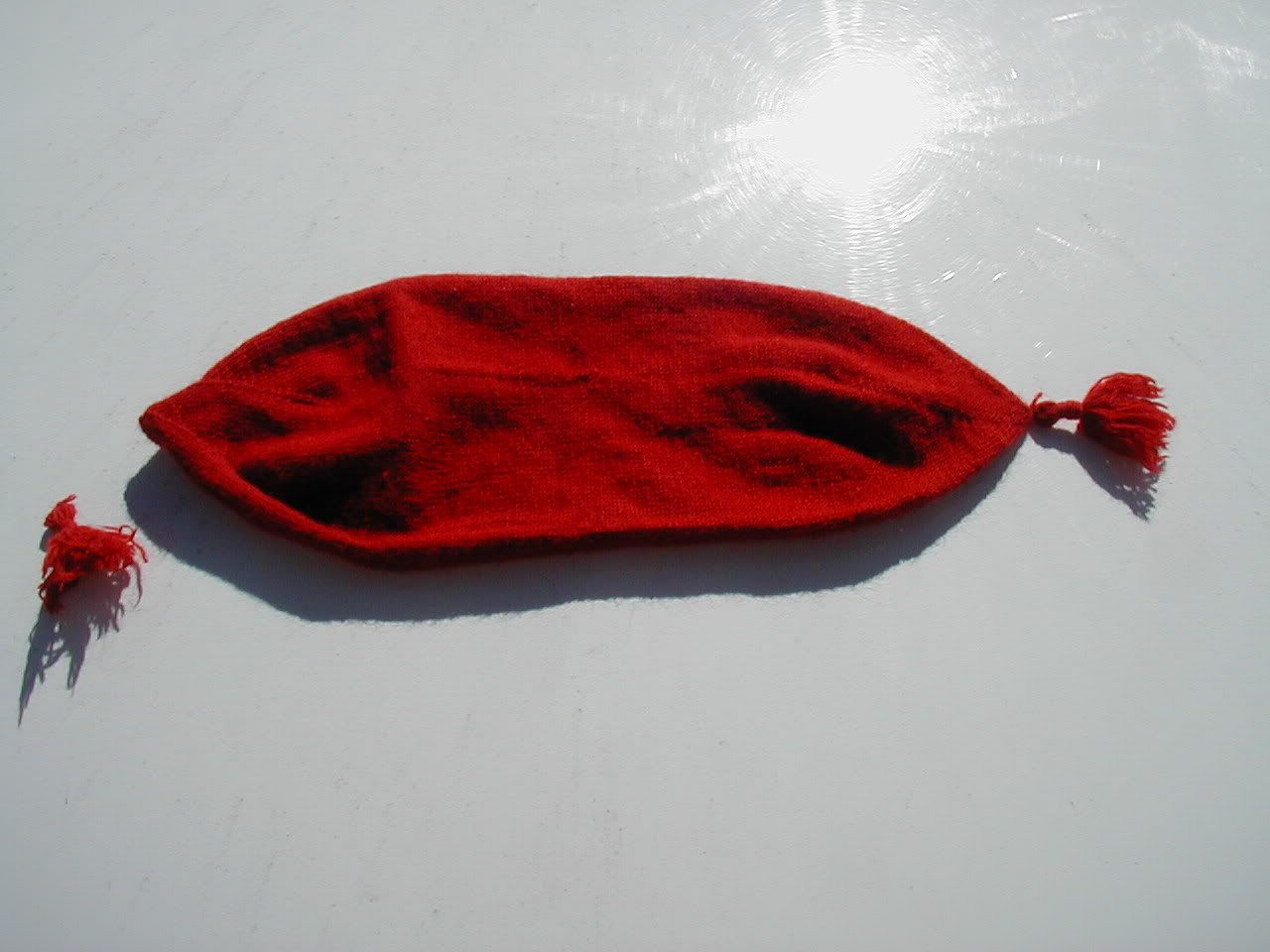 The tassels were what remained of my yarn. I made them up and gave him the hat without them -- leaving him the option to attach or not attach as he saw fit.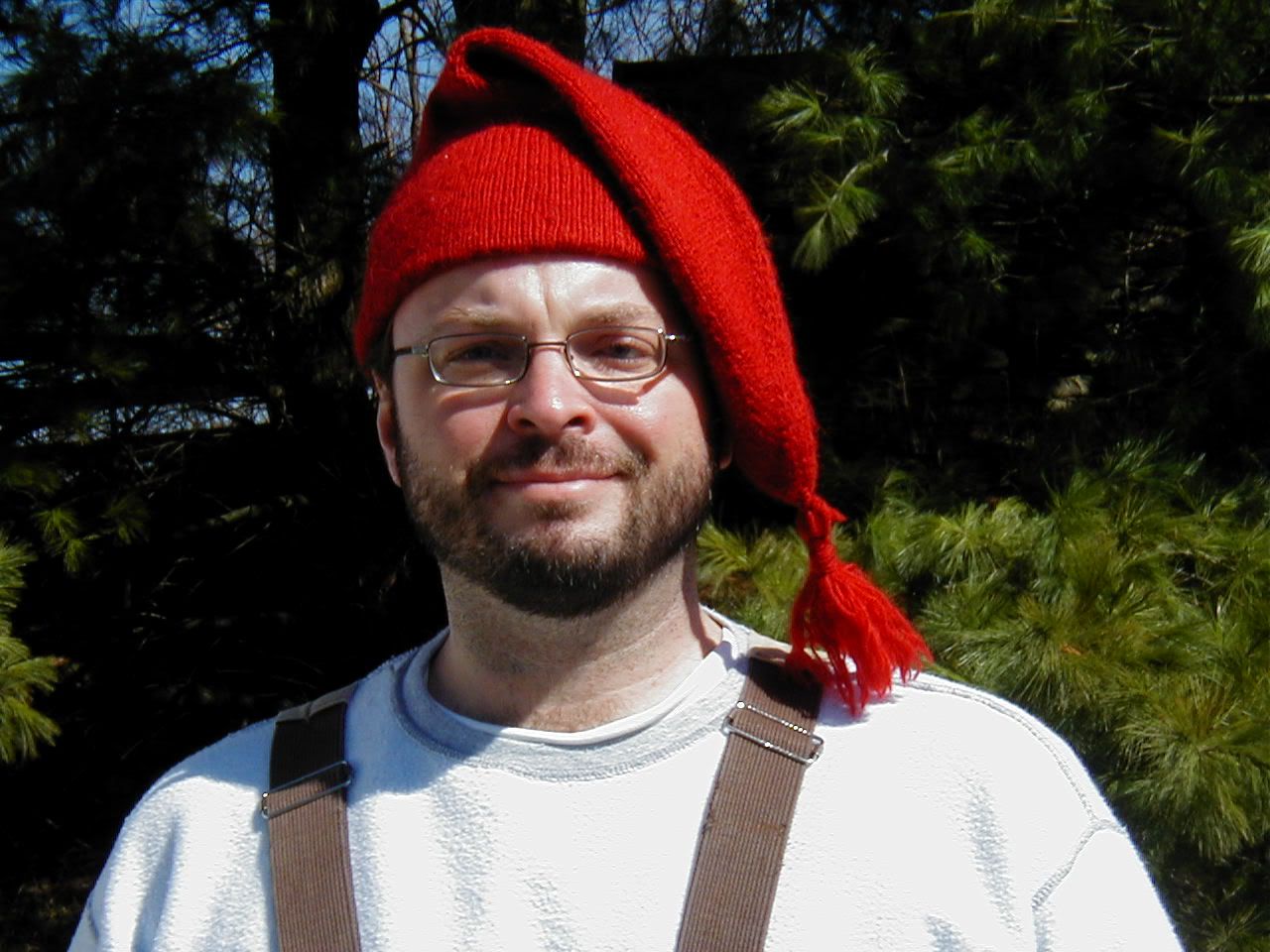 Doesn't he look like one of the founders of New France?


The first time I ever went to Smoke and Fire, it was winter. He wore that hat and I didn't think twice about it, as he's the sort who actually wears the things I make. And it looks good on him. And the double layer of wool is REALLY warm -- so much so that I've made more of these in acrylic as kids' hats. I wasn't prepared for the re-enactors to be so ga-ga about it, nor for my casual, "Well, it's made that way because RIBBING ISN'T PERIOD..." comment to be taken so seriously. When we left, they were pushing flyers for reenactments into my hands. Of course, I got busy and never went to any of them.

Anyway, here's some more stuff about the ship on which the original was found, and another site on historical knitting with a similar repro using the same pattern.


http://www.marariley.net/knitting/caps.htm

The Machault Cap [ed: there is a pix of another knitter's project on this site]
This type of cap was worn by French Voyageurs in the 18th century, and continued to be worn by French Canadians in the early 19th century. The original was recovered from the shipwreck of The Machault, which sank in June of 1760 in the battle of Chaleur Bay. More information and knitting directions can be found in Mark Tully's Packet II.

http://nautarch.tamu.edu/class/anth318/Class%2017%20-%20Shipwrecks%20of%20the%20Anglo-French%20Wars.htm

The frigate Machault
In 1760, France sent a small fleet of six vessels to supply New France. Two vessels were taken by the English navy in the Atlantic, one sunk during a storm, and the other three were scuttled to avoid being captured, after three weeks of fighting with the English on the Restigouche River. These were the Machault, the Bienfaisant, and the Marquis de Malauze.
The Machault was found in 1967 by Parks Canada together with the remains of the Bienfaisant. It was excavated between 1968 and 1972, yielding many artifacts.

Hull remains
It was a sturdy 28 to 32-gun frigate. The stem and stern assemblies were recovered, together with a section cut amidships. After conservation, these timbers became part of the Machault exhibition in a museum at the Battle of Restigouche National Historic Site.

Artifacts
Towards the bow were stored shot, cables, ropes, and sail-maker's tools, as well as the boatswain's stores.
Amidships were foodstuffs, water, spirits and ammunition. Towards the stern were stored hundreds of shoes and clay pipes. Two barrels of Chinese export porcelain and a small cache of tin-glazed earthenware bowls were probably part of a small personal cargo. Small arms, religious objects and surgical equipment were also found on the Machault.